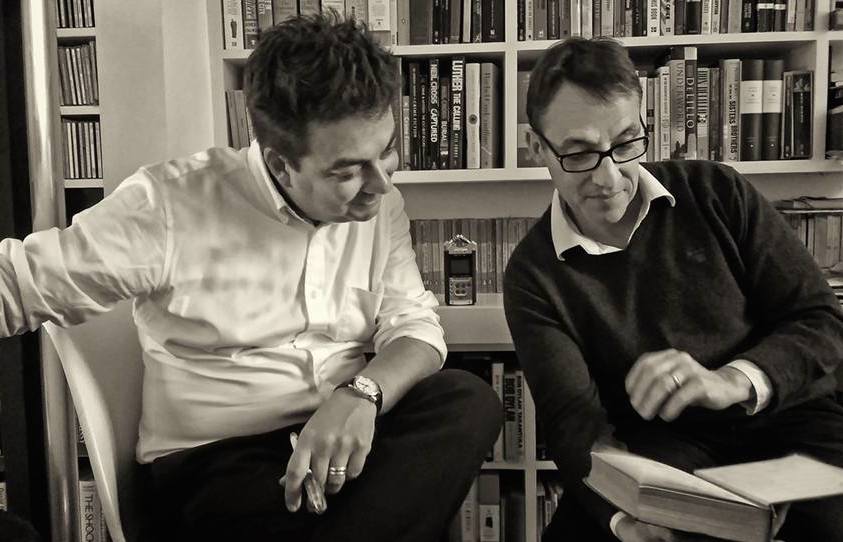 The shape of stories is hardwired into our brains. Harnessing this power will transform your business communications.
A good story, well told, echoes how our minds make sense of the world. Whether it's websites, case studies, reports or presentations, everything we write in business draws on elements of story. And in a world saturated with a million messages, this is golden: stories will always cut through.
This seven-week course will introduce you to the principles of story structure, as set out in  Into the Woods. You'll learn why the shape of stories is hardwired into our brains and how you can use this knowledge to transform your business and marketing communications. You'll see why some stories inspire and engage audiences — and why some don't. You'll experiment with different story-structure techniques to develop your skills. Finally, you'll apply what you've learned by writing your own business stories.
Developed by John Yorke in collaboration with brand and business writer Nick Parker and tutored by US-based business writer Richard Pelletier.
'Many businesses think they're telling stories when they're not. It's important to understand what the elements of story are and use them properly. Otherwise it's like forgetting to put a call to action in a marketing campaign.'
NICK PARKER
Nick Parker
'Introducing a narrative structure into business writing, from twitter threads, to UX copywriting, case studies, corporate histories, and so forth, can shift the entire landscape. New wonders, relationships and connections await.'
Richard Pelletier
NEXT COURSE
Start date: 23 October 2017
Duration: 7 weeks
Skill level: Intermediate
Session length: Weekly
Sessions: 6
Price: £1,200
NEWSLETTER
Join our mailing list for latest course news and offers
Sign me up
We've developed the Story for Business course for individuals and organisations looking to develop and apply a practical understanding of the mechanics of good storytelling.
It's for anyone who needs to communicate as part of their job. From brand and marketing communicators, internal and external communications teams, HR teams, and anyone who needs to write briefs and case studies. You don't need any previous experience and you can take the course for personal or formal professional development.
We teach this course in groups of up to 15 people. You can book as an individual for the group course, and businesses and brands can block-book a dedicated class exclusively for their teams.
The course is suitable if you:
Are a novice storyteller and want to learn how stories work and how to plan and structure your narratives
Are a seasoned professional and want to refresh your skills, learn new ones and improve your knowledge of how stories work, and how you can apply this to your work
Are developing online content for businesses, charities and other organisations and want to understand how to use stories
Want to learn how to select, develop and realise your ideas
Are keen to master story structure
Would like to see the underlying framework behind all stories everywhere
Need to discover why your business stories aren't working — and how to fix them
Want to gain the confidence to create your own brand or business stories
Are looking for a CPD (Continuing Professional Development) course
Want to join a friendly and supportive group of learners
Can dedicate 5-7 hours per week for the duration of the course
The course is based on studying and applying the five-act structure set out in John Yorke's acclaimed book,
Into The Woods
. John has worked with brand and business writer Nick Parker to tailor the course so it's packed with brand- and business-focused themes, examples and exercises.
Over seven weeks, we'll look in detail at the act structure of stories, protagonists and antagonists, inciting incidents, climaxes and resolutions. We'll also look at the big things they can teach us to apply to business communication.
Your tutor will introduce you to how stories work in business, teach you the building blocks needed to write a compelling narrative and fix broken stories, and guide you as you write two short business stories. Along the way, you'll be working within a supportive community of fellow writers keen to share their experiences with you.
We teach this course in our online classroom, which is open 24/7 so you can fit learning around your work, family and friends. You'll work in a small group of learners so you can discuss ideas, ask questions and share your writing as you progress through the weekly sessions.
You'll learn from:
Short podcasts from John Yorke and Nick Parker
Short videos from John Yorke and/or other industry experts
Written guidance notes and carefully selected reading and viewing lists devised by John Yorke and Nick Parker
Practical exercises and prompts, devised by John and Nick to help you experiment and practise your skills
Guest lectures from industry experts
Guided discussions with your group
Live chatroom sessions with your group and tutor to give you the opportunity to ask questions
The opportunity to share your work and give and receive feedback from fellow writers
Tutor feedback on your two business stories at the end of the course
You'll need:
5-7 hours per week to work through the course
A notebook and pen or pencil, if you like to make notes by hand
Access to the following films on DVD or via streaming sites:

Jaws, Cars, Inside Out and Steve Jobs

A laptop or computer* with:

A reliable broadband internet connection
Speakers or headphones
The latest version of Google Chrome, Firefox, Internet Explorer, Edge, or Safari
Microsoft Word. If you don't have this you can download Open Office free
Adobe Reader, latest version. Download free
QuickTime Player, latest version. Download free
Adobe Flash Player 10 or higher
*You can access the course from a tablet or smartphone, but we recommend using a laptop or computer, as this makes it easier to share your work files with your writing group.
Join our alumni
After your course, you can join our online alumni where you'll meet our growing network of past students. The alumni is a friendly group of writers who support each other as they continue to explore and develop their writing.
Within our online alumni area you can:
Rejoin your classmates on a private forum, together with access to an archived version of your course materials and forum posts
Meet alumni from other courses and groups and share your writing for feedback
Join discussions about reading, writing and ideas
Retain access to our online resources area, which we constantly update with interesting and informative links
Chat with other people in our online alumni chatroom. We also host live chats with guest tutors here
Mentoring and one-to-one feedback
The John Yorke Story tutor team offer mentoring, script reads and reports. We are happy to quote by job or script, or to arrange a longer mentoring scheme as you work on a specific story idea. We'll create a package to suit you, so for more information please email susannah@profwritingacademy.com
Taking things further
If you would like to continue on to another Professional Writing Academy, or John Yorke Story course, you'll receive a 15% discount.
Watch John Yorke and Nick Parker discuss why businesses need stories and how they should use them.
Price: £50
(Non-refundable)
While it's simple enough to recognise a successful business story, I've realised it's another thing entirely to pinpoint the reasons for its success and understand how to recreate that in your work.
Emily
So many business briefs can be unambitious, and would benefit from being challenged. This course gives a good framework for making those challenges.
Richard
I had never thought about my pitches in terms of story elements, story structure – I've always just done them on instinct and judged them on whether they read well. So I'm finding this course hugely illuminating and it's already causing me to think differently.
Dan