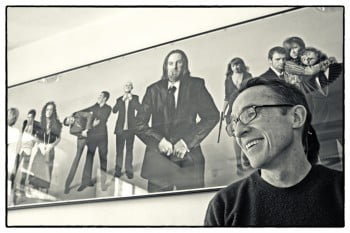 John Yorke is a drama producer, author and teacher who has spent 30 years studying our insatiable appetite for stories. His long career in TV drama has given him the tools to identify the underlying shape common to all successful narratives – from drama to corporate reports.
As former Head of Channel Four Drama, Controller of BBC Drama Production and MD of Company Pictures, John has shaped stories that have attracted some of the biggest audiences for drama in UK TV history. He has overseen some of the UK's most enduring and popular programmes, from Shameless and Life On Mars to EastEnders and Holby City, alongside award-winners like Bodies and the internationally acclaimed Wolf Hall.
John has worked with a vast array of talent, from Paul Greengrass and Paul Abbott to Debbie Horsfield and Jimmy McGovern, making him uniquely placed to watch, learn and analyse the work of the finest writers in British television.
His approach to understanding and constructing stories is based on the premise that there is a unifying shape to all narrative forms that comes from within. Where previous teachers of story have concentrated on "how" stories work, John looks at "why".  Into The Woods argues that once we recognise why story structure is common to all narratives (from tales heard at our parent's knee to Hollywood blockbusters), we become able to tell all stories – and communicate – better.
As founder of the hugely successful BBC Writers Academy (85 per cent of graduates are in professional work), John was well placed to develop a range of online courses for screenwriters, programme makers and business organisations, based on the approach outlined in Into the Woods.
His bestselling book on story, Into the Woods, is the basis for our John Yorke Story courses.
"There's a reason all stories are the same shape – that structure is an intrinsic expression of the human mind and is the product of physics and chemistry and biology.

Our courses are designed to help you recognise and understand that structure and its essential elements – 

and apply them to your work."

JOHN YORKE
In this BBC Radio 3 Arts and Ideas podcast,  John Yorke takes part in a panel discussion exploring the new rules of fiction and storytelling  in today's shifting multimedia world.
In this podcast, John Yorke talks to Park Howell from Business of Story about their shared passion for storytelling, and how it can be applied in the marketing world.
Seminars and masterclasses at business, creative and education events
The impact story can have is recognised well beyond the creative sector, and John addresses engineers, market researchers, media strategists, speech-writers, corporate communications teams and brand directors keen to learn about the power of narrative for effective communication and as a business tool.
To book John for seminars, masterclasses, training or mentoring, contact:
Christina Bunce/Susannah Marriott at learn@johnyorkestory.com
To book John for an author event, contact:
Gordon Wise at Curtis Brown Associates at gordon@curtisbrown.co.uk or 020 7393 4432
Some of John's recent speaking engagements and consultancies
University of Manchester (Comms team), Manchester, UK • Market Research Society, London, UK • Pymouth Manufacturers Group, Plymouth, UK • Creative Europe Media, Hamburg, Germany • European Speechwriter Network, Oxford, UK • Tedx, Nicosia, Cyprus • BBC Writers Room, London, UK • European Radio Conference, Baden Baden, Germany • TV Drama Festival, Stockholm, Sweden • Media Xchange, Guttenburg, Sweden • Racconti Programme, Rome, Italy • Racconti Programme, Munich, Germany • Racconti Programme, South Tyrol • Consultancy Fremantle, Sydney, Australia • Consultancy Fremantle, Melbourne, Australia • BBC Writers Festival, Leeds, UK •  London Screenwriters Festival, London, UK •  Staff Training BBC, Cardiff, UK • Staff Training BBC, Elstree, UK • Staff Training BBC, Birmingham, UK • Lecturing, Newcastle University, Newcastle upon Tyne, UK • Lecturing, De Montfort University, Leicester, UK • Lecturing, City University, London, UK • Lecturing, Drama Centre, University of the Arts London, UK • Lecturing, Dublin, Ireland • Lecturing, Galway, Ireland • Lecturing, Belfast, UK
John ran a session for the Channel 4 Cutting Edge Directors' scheme: highly competitive, run by eight industry leaders. John delivered a bespoke session about storytelling for our documentary directors. It was fascinating, and he used an extraordinarily broad range of cultural references in a brilliantly accessible way. He couldn't have been more helpful planning the session and the talk he gave was really inspiring. We would jump at the chance of working with him again.
Amy Flanagan
I knew when I saw your slides the night before that we were in for a treat and you didn't disappoint. It was a fascinating insight into the way in which storytelling applies to the business world.
Steve Gerry