John Yorke has devised a series of online courses and mentoring programmes to help people put the philosophy outlined in Into the Woods to practical use.

Discover how narrative works in drama, factual TV and business.
Understand the practical applications of story structure, for making order out of chaos, communicating with more clarity and leaving an audience feeling satisfied.
Learn using practical exercises based on real-world examples.
Fit learning around a busy schedule, with 24/7 access wherever you are.
Suitable for freelance creatives looking to master the physics of storytelling, and businesses that need to create stories with impact.
Devised in partnership with specialist online educators Professional Writing Academy, the UK's foremost experts at teaching writing and storytelling online.
If you are interested in one of our script mentoring programmes, please email us: learn@johnyorkestory.com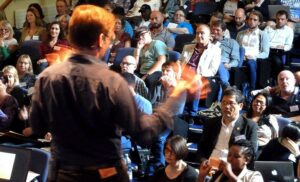 John teaching at a London Screenwriters' Festival masterclass. Pic: Phil Peel
CHOOSE THE RIGHT COURSE FOR YOU
"The most important thing is to just keep practising the craft of storytelling. It's like playing an instrument: the more you do it, the better you get." John Yorke
Story for Business
What organisations can learn from the movies. Starts 16 October
All aspects of business rely on stories: brand identity, human resources, product development, marketing, case studies, corporate reports and promotional content. All are about effective communication, making story an essential tool for business.
This online course, developed with Nick Parker and made possible by
Creative Skillset
, is based on John Yorke's
Into the Woods
, the bestselling book on story structure. It will give you and your teams the skills to create meaningful stories for your organisation and the people you engage with – employees, customers, suppliers, partners and funders.
Story for Script Development (HETV)
Hone your script-development skills for the new generation of TV drama.
Starts 29 January 2018
On this course you'll discover the underlying structure of all successful drama, learn why and how stories work and practise applying this understanding to your work in script development.
This online course, made possible by
Creative Skillset
, is based on John Yorke's
Into the Woods
, the bestselling book on story structure. It will give you and your teams the skills to edit HETV scripts and work productively with writers, bringing together notes from large and diverse teams to create more effective storylines both over individual episodes and across series.
Story for Video Games
Learn how to structure great stories for video games, then write a story treatment and get feedback. New course: Starts 22 January 2018
Learn about the relationship between player and protagonist, discover how to merge story and gameplay, master story structure techniques for games and understand how to work as part of a development team.
This new seven-week course, devised by John Yorke and experienced narrative game designer Caroline Marchal, will introduce you to the principles of story structure, as set out in  
Into the Woods
 and how to apply them to video games.
Story for Factual TV
Apply the principles of dramatic storytelling to create more compelling documentaries, factual and format shows. Starts 25 September
This online course, made possible by
Creative Skillset
, is based on John Yorke's
Into the Woods
, the bestselling book on story structure. This course helps builds your awareness of how successful storytelling works and the essential elements common to all stories, dramatic or factual. Suitable for new and established professionals in factual TV who want to develop their understanding of how to create compelling stories that speak to audiences around the world. Taught by John Yorke and former Head of Channel 4 documentaries, Peter Dale.
Story for Screen (Drama) 
Shape your idea into a spec script. Starts 22 January 2018
Find out why all successful stories share an underlying structure and learn how to apply that knowledge to your own work. This 16-week course will help you master story structure and develop a treatment for a spec script. It's a great introduction to narrative for screenwriters and makes a perfect back-to-basics refresher for those with more experience.
Suitable for individuals and teams involved in developing drama for TV and film, including producers, directors, writers, editors, technicians and executives. Also for writers and actors working for radio and stage.
Story for Factual TV, Story for Business and Story for Script Development courses have been made possible by the support of Creative Skillset, and have been approved as part of an informal or formal (CPD) programme.
UNDERSTANDING HOW STORIES WORK BOOSTS CAREERS AND BUSINESSES
Alumni successes
As founder of the BBC Writers Academy, John Yorke has taught some of the brightest and best in British drama. He has honed his teaching method to focus on the principles of storytelling outlined in Into the Woods.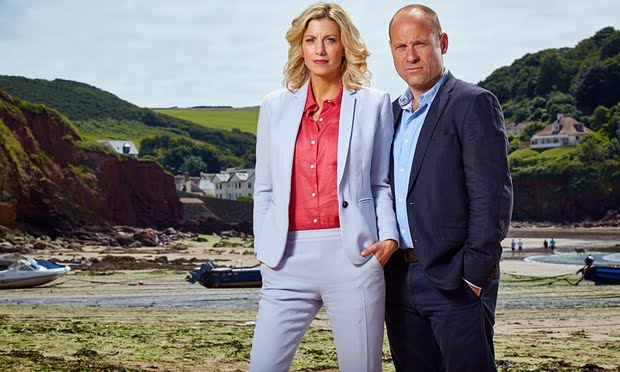 The Coroner (BBC1), written by Sally Abbott Photograph: Mike Hogan/BBC.
Good storytelling helps TV careers. Here are some of the achievements of John Yorke course alumni in 2014:
80 hours of British and Irish TV Drama written or commissioned
 2 Hollywood movies commissioned
1 British movie commissioned
3 Original series created and commissioned
3 Original series recommissioned
2 Guardian/Observer Top 10 dramas of 2014
5 Original script commissions for BBC  
2 Original script commissions for ITV 
2 Original script commissions for C4/E4
10 members of core writing teams – Casualty, EastEnders, Holby, Coronation Street
1 Writer shortlisted for the Red Planet Prize
1 BBC Scotland writer in residence
3 BBC Radio 4 dramas commissioned or made
1 BBC Radio 3 drama commissioned or made
1 Royal Court main house show
"I often think the mark of a great teacher is one who leaves you feeling like you should have already known everything that was covered, so obvious is its sense."
BBC Writers Festival attendee
"I really enjoyed John's dynamism. His lecture – even though informal – was well presented. I think we were all captivated for those two hours."
De Montfort University, Leicester, lecture attendee
"That was an amazing class. It clarified areas that I have struggled to grasp. I would jump at the chance to take another class with John."
Galway Film Centre talk attendee