Not all online training is equal
With John Yorke's 30 years of experience teaching story and the team's 15 years of experience teaching creativity online, we know how to design and deliver premium learning that sticks.
Our online CPD courses and corporate training modules have helped more than a thousand creative professionals master story structure and narrative skills for use in their role and workplace. Many say the experience has changed the way they think – and work. 
Read on for an insight into how we teach and our unique and effective approach to andragogy – the art and science of teaching adults.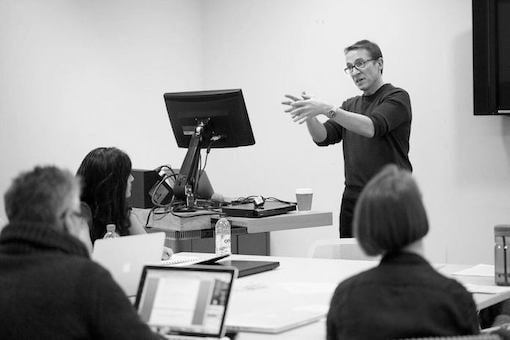 Average completion of MOOCs from Stanford, Harvard, FutureLearn – 5%
Average completion of a John Yorke Story online training course – 80%
TRANSFORMATIVE LEARNING
Whereas most online training treats people as passive recipients who emerge as the same people and quickly fall back into old habits, what we do uses the power of online learning communities to permanently change the way people think and behave.
The process of applying each element of learning to practical real-world assignments while progressing through the training means that participants remember what they have learned, and understand how to use it in their professional practice.
We have trialled, evaluated and finessed this uniquely effective way of teaching online while tutoring degree, masters and recreational courses, and while training creatives in the workplace.
The results are evident in the award-winning work our alumni produce in the creative industries and beyond.
A LEARNING COMMUNITY
There are two central ideas at the heart of our unique approach to learning:
Andragogy: educating adults through an active process of trying and doing, receiving feedback and refining; training that mirrors the creative process.
A tight-knit and trusted learning community: small groups learn together, forging productive collaborative relationships that last way beyond the training and continue to develop over months and years in our alumni community.
FLEXIBILITY WITH ACCOUNTABILITY
Learning about story sticks when you allow plenty of time to reflect, practise and revise. Our weekly or fortnightly classes give you space to read, watch and think – and study at a time that suits you – within a framework of strict deadlines that ensure you keep progressing.
INCLUSIVE AND ACCESSIBLE
Our online learning model is ideal for people juggling study with work, family life and caring responsibilities – you can log on and learn at any time wherever you are in the world.
We make our training accessible for people who find face-to-face learning tricky, whether you live in a remote place, don't have a great internet connection, feel shy about meeting new people or prefer to study at non-traditional times of the day or night.
We also recognise that many talented people have qualms about entering a learning environment so we work hard to create safe and supportive study spaces, whether you feel less than confident about your skills or experience, have come along a non-traditional route, or have a mental health issue or disability.
Learning with us is about working alongside a diverse group of people with many backgrounds and levels of experience, who often become long-term social and professional contacts.
The classroom is no longer a place where the teacher ("expert") pours knowledge into passive students, who wait like empty vessels to be filled. In the constructivist model, the students are urged to be actively involved in their own process of learning.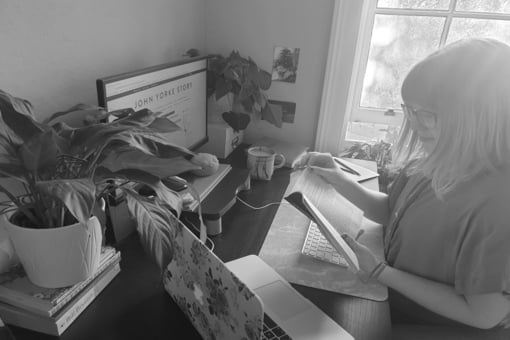 Our guide to professional development training
Discover what we offer, including bespoke online training and one-to-one mentoring.
WHAT people SAY about our  COURSES
The course has been truly transformative to the way I frame and structure my stories, and I have been really touched by the genuinely supportive and encouraging atmosphere on the forums from fellow learners and tutors.
At first I was reluctant to join as I knew I was going to be busy at work and I wanted more classroom interaction. But, actually this is better as I really do have to interact with students and tutors but at a time that suits me. 
It's so valuable to get the tutor feedback notes after each final exercise in the session and be reassured that we are all on the right track – it's great to see how everyone is getting so much from the course!