The shape of stories is hardwired into our brains. Harnessing this power will transform your business communications.
Everything we write in business – content marketing, case studies, PowerPoint presentations – draws on elements of story.

AN OVERVIEW OF THE COURSE
In his bestselling book Into the Woods, John Yorke argues that we connect with stories so powerfully because their structure is a reflection of how our brains work.
A good story, well told, echoes how our minds make sense of the world. Which, in a world saturated with a million messages, is golden: stories will always cut through.
We've created this course to share John's insights into storytelling with business communicators.
The course is based on Into The Woods, and John has worked with brand and business writer Nick Parker to tailor the course so it's packed with brand- and business-focused themes, examples and exercises.
A FOUNDATION COURSE SUITABLE FOR ALL  
The course is ideal for individuals and organisations looking to develop and apply a practical understanding of the mechanics of good storytelling.
It suits anyone who needs to communicate as part of their job. From brand and marketing communicators, internal and external comms teams, HR teams, and anyone who writes briefs and case studies.
You can take the course for personal or formal professional development.
YOU DON'T NEED ANY PREVIOUS EXPERIENCE
No. This is a foundation course and is appropriate for novice storytellers – or as a refresher for seasoned professionals.
THE COURSE IS DELIVERED ONLINE IN WEEKLY MODULES
The course is accessed through a dedicated Professional Writing Academy online classroom in weekly sessions, meaning you can work in a flexible way.
We chose this method because it's the most effective way we know to learn about stories, allowing plenty of time for reflection and for things to sink in.
The weekly module structure gives you space to read, watch films and think between sessions, and learn by sharing, reading and giving feedback on the work of your fellow students.
The online format is ideal for people juggling work with family life, works wherever you are in the world, and is accessible if you find it difficult to attend face-to-face training.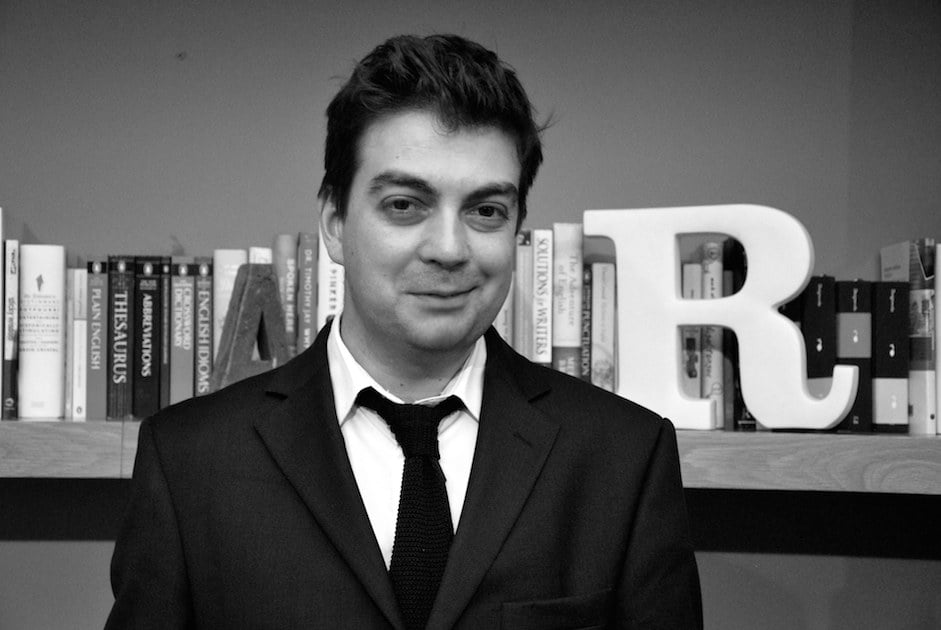 Developed in collaboration with Nick Parker
 John has worked closely with brand and business writer Nick Parker, to shape a course that's specifically tailored to business communicating.
Nick is a former creative director at  language consultancy The Writer. His clients included BT, RBS, PwC, BBC and Spotify working at all levels – from CEOs and leadership teams to Heads of Brand, HR and Legal, to people in direct day-to-day contact with customers.
Among many other things, Nick has written speeches for CEOs, trained government ministers, and helped develop the world's largest tone-of-voice programme.
Nick believes that thinking about story is one of the most powerful processes businesses go through: "Every time I work with clients on their story, the process uncovers unexpected and exciting things. You're never really just 'telling the story'. You're almost always breathing life into your strategy, sharpening up your brand, working out what your propositions should be… and a thousand other things."
And he also has this to say about the online format:
'Professional learning and development is rightly obsessed with 'making learning stick'. Well, one of the best ways to make sure people can remember and use the things they've learned is to not rush the learning process! The online format and weekly modular structure offers the perfect way to learn, reflect and practice something like storytelling.'
'

This course will show you how to spot, shape and tell stories that help you connect more closely with your audience.'
Course outline
Over 6 weeks, we'll look in detail at the big themes in Into The Woods – the act structure of stories, protagonists and antagonists, inciting incidents, climaxes and resolutions. And we'll look at the big things they can teach us to apply to business communication:
The Shape of All Stories
We'll look at the building blocks that all great stories have in common – whether cinema classics like Jaws, or the founder's tale of Ben and Jerry's Ice Cream.
Finding your Heroes and Villains
We'll examine what makes us identify with key characters – and how this applies to business stories. Is your business the protagonist of your story? Or is it your product or your customer?
Getting the Best out of Conflict
All great stories have at their heart a conflict to resolve, an obstacle to overcome, or a villain to vanquish. We'll look at how to identify the conflict in business stories – and how to deal with the urge in business to pretend that everything's positive and there are never any challenges!
Keeping your Audience on the Edge of their Seats
We'll look at the techniques great storytellers use to create unbearable suspense and can't-look-but-can't-look-away tension. And how you can use these superpowers in your own work.
How to Avoid Telling Bad Stories
We'll pick up some of the common pitfalls that business stories fall into – including the aforementioned 'there's no conflict here!' problem, and the 'we want to be a blockbuster, but we're more like a soap opera' dilemma….
And at the end of the course, you will apply the techniques you've learned to a piece of work relevant to your professional role.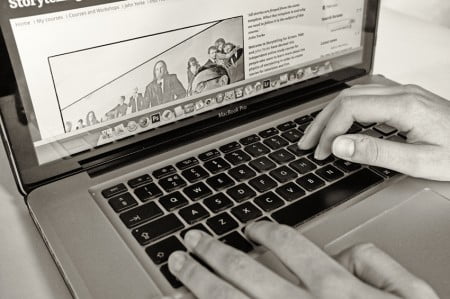 How we teach you
• The course lasts 6 weeks, and comprises 40 hours of learning.
• Each session runs over a week. You will need to put aside around 7 hours per week.
• All teaching, interaction with participants, and tutor moderation takes place in the Professional Writing Academy online classroom, open 24/7.
• Sessions open on a Monday; assignments must be completed and uploaded by Saturday with critiquing of fellow participants' work completed the following day.
The course is taught using the following:
• Videos, podcasts, reading and watching lists from John Yorke, Nick Parker and other industry experts.
• Guidance notes and directed prompts, assignments and discussions.
• Webinar and Q&A sessions.
• Online peer critiquing from other participants in the group.
• Tutor and moderator guidance.
• The support of an online community and virtual classroom.
After the course you will have the option to continue working with your peers in an online alumni area. This includes an archive of your course materials and forums to continue discussions with your peer group and others who have completed the course.
Next course starts 30 April 2018, £1,500
WHAT STUDENTS SAY ABOUT
the

COURSES
While it's simple enough to recognise a successful business story, I've realised it's another thing entirely to pinpoint the reasons for its success and understand how to recreate that in your work.
So many business briefs can be unambitious, and would benefit from being challenged. This course gives a good framework for making those challenges.
Learning what makes a good story work will be applied to the content I develop from now on – from case studies to blogs and speeches.
I had never thought about my pitches in terms of story elements, story structure – I've always just done them on instinct and judged them on whether they read well. So I'm finding this course hugely illuminating and it's already causing me to think differently.