Learn the mechanics of story structure and apply that practical understanding to High End TV drama script development
A new generation of UK High End TV (HETV) shows are transforming how TV drama is conceived and made – requiring story creators who think on a bigger scale in terms of ambition and story volume, and are able to work with large and complex teams. This course aims to equip participants with the skills needed to step up and thrive in the booming HETV drama arena.
On this course you'll discover the underlying structure of all successful stories, learn why they work and practise applying this understanding to your work in script development. 
APPROACH Over six sessions you'll become familiar with the key components of story structure and how to put them together to create a successful story. You'll work out what makes certain stories resonate with TV audiences in the UK and around the world. You'll master story structure step by step, then apply those principles to diagnose and fix script problems within the context of an HETV production.
Along the way you'll build up a range of creative, practical and critical skills required of a script editor within an HETV production. You'll develop increased judgement and self-confidence in selecting and presenting story ideas, distilling a story to its essence, collating revisions on a script, working sensitively with writers, and giving and receiving notes.
Finally, you'll submit a set of notes on an HETV script and receive written feedback from John and his team.
WHO IS IT FOR? Anyone working in TV looking for opportunities in High End TV Drama, including editors, development assistants, trainee script editors, researchers, storyliners and story assistants looking to learn the mechanics of story structure and apply that practical understanding to HETV drama.
You can join the course as an individual. We also offer block bookings for production companies who wish to develop emerging script talent and develop a crew base around the UK.
LEVEL Appropriate for trainee script editors, researchers and story assistants – and for those with responsibility for making programmes such as editors and series producers. Also useful as a back-to-basics refresher for people with more experience or teams who want to unify their approach to the craft.
DURATION 6 sessions over 7 weeks.
DELIVERY The course is accessed through an Into the Woods virtual classroom, hosted by the Professional Writing Academy.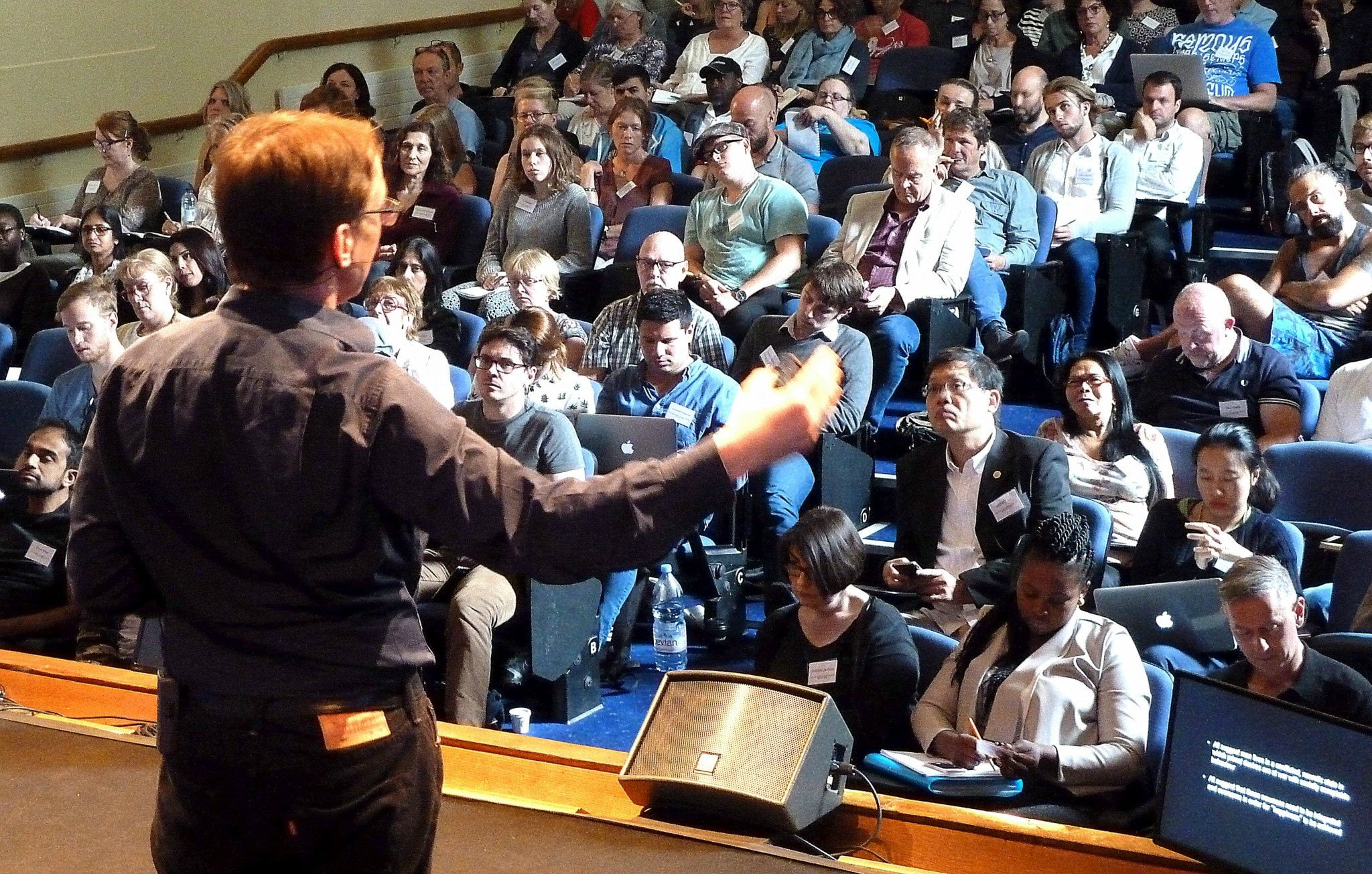 Hone your script-development skills
You'll master story structure and apply those principles to diagnose and address problems with a script in a professional HETV production context.
As you work your way through the course you will develop:
Knowledge of the underlying structure and generic components of successful TV storytelling within the constraints and specific opportunities of the HETV sector.
The ability to identify and suggest resolutions to problems with a story at scene, episode and series level.
Greater control over stories, including in use of suspense, deferral of gratification and crystallising the important elements of a story.
Familiarity with the script-development process within HETV and the role of the script editor and other key team members.
Increased awareness of the story expectations of HETV as well as of the market and audience.
Increasing judgment and self-confidence in the selection, development and realisation of story ideas, and the ability to collate and present notes to writers and the wider team.
Professionalism in working with others, including writers, production teams and execs.
Course outline
Throughout the course you'll study real-world scripts that work – and some that don't – to help you understand how thinking in story terms can help you identify and tackle problems, and make your note-giving more effective at all stages of the development process.
Session 1: Introduction to Storytelling
We start by thinking about the grammar of storytelling and the essential elements every story needs. We'll look at the HETV script production process and the role of the script editor and other team members. This session is also about introducing yourself and your current role in the script process.
Session 2: Basic Building Blocks
In the second session we build on the basic building blocks used in dramatic storytelling. By the end of the session you'll understand what makes a good HETV story – and what doesn't. We'll also look at the HETV market and audiences, and the specific opportunities and constraints the form presents. We will ask you to make notes on an HETV script, which you will revise towards the end of the course.
At the end of Session 2 there is a Tutor Q&A.
Session 3: Fixing Stories that Don't Work
This session is about being able to see if a story works – or how to 'break a story'. You'll learn the 10 key questions to ask every story and by the end of the session should be able to deconstruct a HETV story and understand what needs to be done to fix any problems. You'll apply those principles by giving headline notes on a real HETV script.
Session 4: Mastering Act Structure
In this session we break down a story into first three and then five acts and look at why the midpoint and turning points are such important elements in a script. We'll introduce key ways to read an HETV script and look at storylining across different-length series. Practical exercises include breaking a script into five parts and giving notes to an important writer who'd rather not hear them.
At the end of Session 4 there is a Q&A with John Yorke.
Session 5: Giving and Receiving Notes
In this session we look at ways of acting on notes – to make scripts better not just different. We'll assess a script at scene level and think about the merits of seeing a story from the character's perspective. We'll look too at the script-editing process from the viewpoint of the writer and the wider team. You will return to the script we asked you to make notes on in Session 2, and revise your notes in line with what you have learned.
Session 6: Putting it All Together
In this recapping session, John offers his top tips for checking whether a story is as good as it can be. We hope these tips will inspire you to look at stories and scripts with a fresh eye. At the end of the session you will submit notes on a live script to see how far you've come, and receive written feedback notes from your tutors.
At the end of this session, there will be a Q&A with an HETV writer.
The online classroom closes at the end of Session 6, but you can continue working with your peers in a course alumni area online. This includes an archive of your course materials plus forums that enable you to continue collaborating with your peer group and networking with others who have completed the course.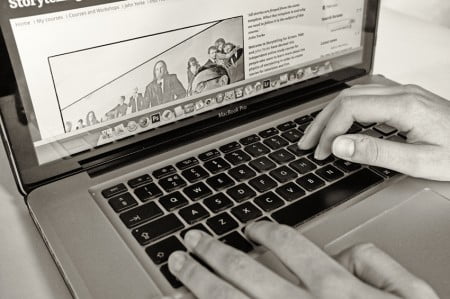 How we teach you
• The course lasts 7 weeks, and comprises 35–40 hours of learning.
• Each session runs over a week. You will need to put aside 5–7 hours work per week.
• All  teaching, interaction with participants and tutor moderation takes place in the Professional Writing Academy online classroom, open 24/7.
• Sessions open on a Monday; assignments must be completed and uploaded by Saturday with critiquing of fellow participants' work completed by Sunday night.
The course is taught using the following:
Short audio and video files from John Yorke.
Short video clip examples and scripts from HETV drama.
Online guidance notes and directed prompts and practical exercises, devised by John Yorke.
Live chats and Q&A with John Yorke and a script development executive.
Directed reading and viewing lists from John Yorke.
Online peer critiquing and guided discussion with other group members
Day-to-day tutor feedback.
Online classroom and housekeeping moderation.The support of an online community and virtual classroom.
A dedicated resources area updated by the course team.
After the course you will have the option to continue working with your peers in an online area where you can network with alumni from other courses.
Story for Script has been made possible by the support of Creative Skillset, and has been approved as part of an informal or formal (CPD) programme.
Course starts 29 January 2018 price £900
I have learned invaluable lessons that I will remember and refer to throughout my career. This has really revitalised my faith in this industry and the people in it.
I never imaged story craft could be so involved and rigorous. The course has taught me the value of a deadline and the importance of simplicity, clarity, focus and depth. I have come away from the course so much better placed than when I started.
As someone relatively new to the industry I have found the course transformative. I see TV drama in a completely new way now, and look at stories in a new light. I'll miss the weekly tasks.
I've been reworking a script I worked on earlier this year. Revising it with the five-act structure was really interesting. I saw connections I hadn't seen before and learned how mirroring Acts 2 and 4 could help with momentum for the latter.