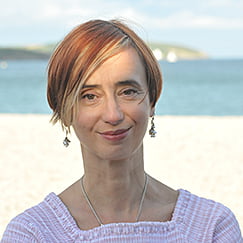 Susannah Marriott
Director
Susannah has been teaching people how to write and tell stories online since 2008, when she helped develop the world's first fully online masters degree in writing, at Falmouth University. She has devised, written and taught MA, MFA, BA and PGCHE courses in writing, narrative and editing, as well as training writers and editors for publishers in the UK, US, France and India.
She co-founded The Professional Writing Academy to bring top quality, professionally focused online writing education to everyone, whatever their background, whichever time of day or night they wish to study, and wherever they live in the world. With PWA Susannah has created bespoke online training to develop new fiction writers for Faber Academy, Cornerstones Literary Consultancy and others, and also works training writers and researchers with 10 universities and research institutions, including Glasgow University, Queen's University Belfast, University of Strathclyde, University of Stirling, University of Dundee, Dublin City University, Royal College of Surgeons in Ireland and Biocat Norwegian Graduate School.
Prior to this Susannah worked for many years in the publishing industry as an editor, commissioning editor and development editor, commissioning new ideas, building lists and developing new authors and writing talent. She has edited more than 60 titles for authors including Peter Ackroyd, Stanley Wells, Mary Quant, BKS Iyengar, Sheila Kitzinger, Penelope Leach, Elizabeth Luard and Anna Pavord, has ghostwritten many more titles, and is author of 25 books herself, translated into 17 languages.
"Since working with John Yorke I can't stop looking for the mechanics of story in books, films and on

TV.

I find myself winding to the middle of a show to find the mid-point. Try it – it's thrilling to be able to pinpoint exactly what makes a story work, and very annoying for partners and children!"