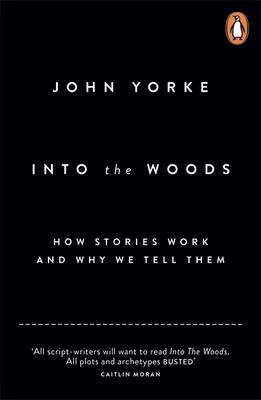 LEARNING BASED ON the
BESTSELLING BOOK on STORY
Into The Woods explains why all stories have the same underlying structure. We'll help you understand that shape and how to apply it to your work, whether you're making TV, video games, novels or writing a tweet. Join us for:
Conferences and masterclasses

Consultancy and mentoring
More about THE BOOK. More about THE COURSES. 
"From the gossip we share, to the TV series we binge on, to the political narratives that shape our lives — stories define us. Learn how they work and transform the way you do everything."
WHAT PEOPLE SAY ABOUT the APPROACH
"A mind blower… an incredibly dense but very readable tome about the art of storytelling. Really worth a read."
Lenny Henry
"The best book on the subject I've read."
Tony Jordan
"All script-writers will want to read Into the Woods. All plots and archetypes BUSTED."
Caitlin Moran
"I don't always enjoy books on writing, but Into The Woods by John Yorke is brilliant on story structure."
Ken Follett
Farah Abushwesha is a BAFTA-Nominated Producer, Amazon Best-Selling Author, and a 2017 Screen International Star of Tomorrow. She's also the Founder of the BAFTA Rocliffe New Writing Competition, an initiative created to give talented fledgling screenwriters a headstart in the industry. Professional Writing Academy moderator, actress, writer and producer Katherine Press sat down with Farah at BAFTA HQ to talk Rocliffe, filmmaking and her top tips for new writers.
There is growing recognition that great story is a key factor in player engagement and video game completion. But there are few opportunities to learn the fundamentals of story in a way relevant to games developers. Caroline Marchal and John Yorke have devised an online course for individuals and teams who want to know how to manage a gaming story better. Caroline explains more…
Narrative games designer Caroline Marchal and narrative expert John Yorke explain why games developers increasingly need to understand and apply the fundamentals of story to keep players engaged.