LEARN to STRUCTURE YOUR STORY with the NARRATIVE PROFESSIONALS
In Into The Woods, John Yorke explains why all stories have the same underlying structure. We'll help you understand that shape and how to apply it to your work, whether you're making TV, video games, novels or writing a tweet. Join us for:
Consultancy and mentoring
More about THE BOOK. More about THE COURSES. 
"From the gossip we share, to the TV series we binge on, to the political narratives that shape our lives — stories define us. Learn how they work and transform the way you do everything."
"I felt very inspired by learning from John, whose passion and experience was illuminating from beginning to end. I recommend this course to anyone interested in storytelling.​"
BECTU Vision and Drama Training
"I found John's book, the course and his feedback on my treatment very useful and have been applying his Ten Questions and Five Act Structure ideas to pretty much all of my writing ever since. Having read a multitude of books on screenwriting and writing, I have found John's theory and approach so refreshing, challenging – and yet so simple. It's an absolute gift."
Course participant, Endemol Shine Nederland 2018
WHAT PEOPLE SAY ABOUT the BOOK
"A mind blower… an incredibly dense but very readable tome about the art of storytelling. Really worth a read."
Lenny Henry
"The best book on the subject I've read."
Tony Jordan
"All script-writers will want to read Into the Woods. All plots and archetypes BUSTED."
Caitlin Moran
"I don't always enjoy books on writing, but Into The Woods by John Yorke is brilliant on story structure."
Ken Follett
FREE VIDEO GAMES INDUSTRY GUIDE
FOR A LIMITED TIME ONLY
We're giving free access to our much-coveted guide: Three Strategies to Make Your Game a Winner. Enter your email address below to download the guide.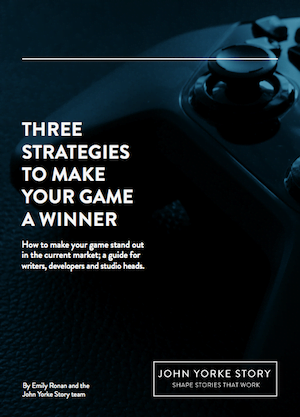 Our Story for Games course director Caroline Marchal recently spoke about struggling to find female game designers when hiring for her development team. We explore why female talent is underrepresented in the games industry.
There's a growing concern in the $137b video games industry as 80% of games are abandoned by players before they reach the end. As part of our industry guide, we explain why game creators must prioritise narrative in their games if they want to stand out in the current saturated market. 
Perfecting the structure of a story makes the difference between a good idea and a successful piece of screenwriting. In this one-to-one session, the John Yorke Story team work with a screenwriter as she masters some of the core elements of five-act structure: inciting incidents, moments of hope and despair, and the point of no return.