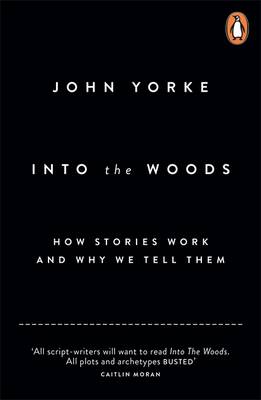 LEARNING BASED ON the
BESTSELLING BOOK on STORY
Into The Woods explains why all stories have the same underlying structure. We'll help you understand that shape and how to apply it to your work, whether you're making TV, video games, novels or writing a tweet. Join us for:
Conferences and masterclasses

Consultancy and mentoring
More about THE BOOK. More about THE COURSES. 
"From the gossip we share, to the TV series we binge on, to the political narratives that shape our lives — stories define us. Learn how they work and transform the way you do everything."
"I felt very inspired by learning from John, whose passion and experience was illuminating from beginning to end. I recommend this course to anyone interested in storytelling.​"
BECTU Vision and Drama Trainin
g
"I found John's book, the course and his feedback on my treatment very useful and have been applying his Ten Questions and Five Act Structure ideas to pretty much all of my writing ever since. Having read a multitude of books on screenwriting and writing, I have found John's theory and approach so refreshing, challenging – and yet so simple. It's an absolute gift."
Course participant, Endemol Shine Nederland 2018
WHAT PEOPLE SAY ABOUT the BOOK
"A mind blower… an incredibly dense but very readable tome about the art of storytelling. Really worth a read." Lenny Henry
"The best book on the subject I've read."
Tony Jordan
"All script-writers will want to read Into the Woods. All plots and archetypes BUSTED." Caitlin Moran
"I don't always enjoy books on writing, but Into The Woods by John Yorke is brilliant on story structure." Ken Follett
In this exclusive interview, JYS's Katherine Press speaks to Julia McKenzie, Head of Radio Comedy for BBC Studios, about her role at the BBC, how to submit your work to production companies and how to react to trends in writing.
Katherine Press talked women in games with BAFTA-nominated and Writers' Guild Award-winning games writer and story developer Rhianna Pratchett. ______ Katherine Press – So, Rhianna, what's it like being a female games writer in today's gaming industry? Rhianna...
The games industry's most valuable writers are the ones who understand game design and production. But with few writing courses teaching storytelling for an interactive medium, nor game mechanics or collaborating within a development team, it's hard for aspiring games writers to know where to start.