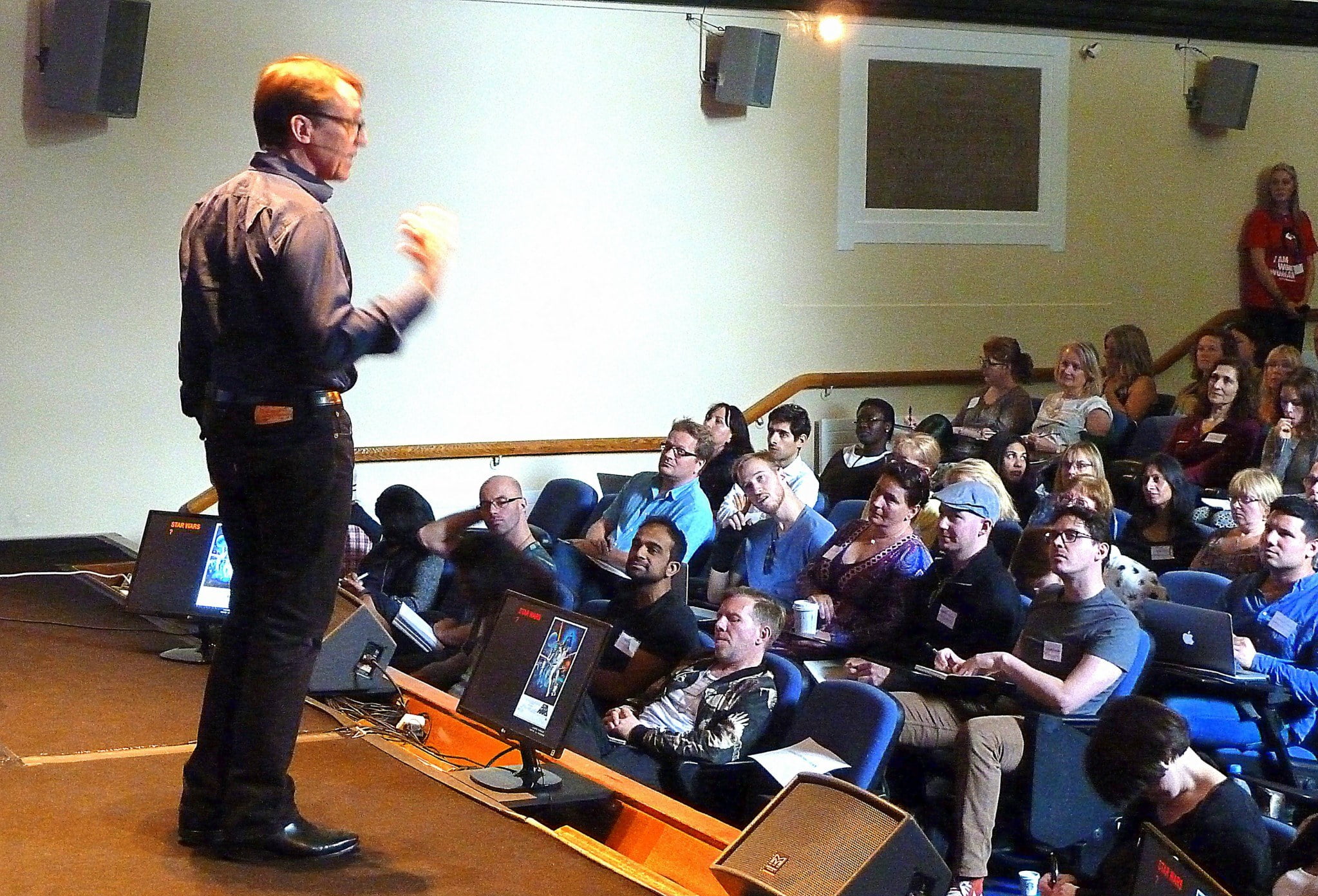 STORY for SCRIPT DEVELOPMENT
Learn the script-development and story-shaping skills you need to thrive in the booming HETV drama arena
A new generation of high end TV (HETV) shows is transforming how TV drama is conceived and made — drama is more ambitious than ever, requiring bigger stories and larger, more complex teams. John has worked with experienced script editor Caroline Young to devise a course that will give you the skills to succeed in this growth area of TV production.

Over seven weeks you'll learn all the story-structure and note-giving skills you need. You'll become familiar with the key components of five-act story structure and how to put them together to create a successful story. You'll work out what makes stories resonate with TV audiences worldwide, then apply those principles to diagnose and fix script problems within the context of a production.
Along the way you'll develop increased judgement and self-confidence in selecting and presenting story ideas, distilling a story to its essence, working with writers, collating revisions on a script, pitching to a wider team, and giving and receiving notes.
This is a professional development course and so you may be able to get funding from your employer to do it. Your place may also be eligible for funding from Screenskills.
All participants who successfully complete the course will receive a certificate of completion evidencing their learning and study hours.
Course Director John Yorke
Course Leader Caroline Young
Course Moderator Katherine Press
Good script editors are the unsung heroes of television drama – they can quite literally make the difference between a script that works and a script that doesn't.

Caroline Young
Course Leader
NEXT COURSE
Start date: 27 April 2020
Duration: 7 weeks
Skill level: Intermediate
Session length: Weekly
Sessions: 6
Price: £900 (inc. VAT where applicable)
NEWSLETTER
Join our mailing list for latest course news and offers

This course has been made possible by the support of Screenskills, and has been approved as part of an informal or formal continuing professional development (CPD) programme.
You may be eligible for a training bursary of up to £1000 for this course. Apply direct to ScreenSkills here, at least FOUR WEEKS before the course start date. 
Story for Script Development is for anyone working in (or who wants to work in) TV drama, including editors, script readers, development assistants, trainee script editors, researchers, storyliners, story assistants, story supervisors and anyone else looking to learn the mechanics of story structure and apply that practical understanding to high end TV drama.
We teach this course in groups of up to 15 people. You can book as an individual or block-book a dedicated class exclusively for your team.
The course is suitable if you:
Are a trainee script editor, researcher or story assistant and want to learn how to plan and structure drama scripts
Are responsible for making high end TV drama, including editors and series producers
Want to move into HETV and learn more about the story expectations of the market and audience
Would like to sharpen your five-act story structure skills and learn how to work with large-scale stories
Want to understand storylining over a series
Need to discover why scripts aren't working — and how to fix them
Want to get better at collating and presenting notes, including giving notes you'd rather not give
Need to gain experience and confidence in working with writers
Are looking for a CPD (Continuing Professional Development) course
Want to join a friendly and supportive group of learners
Can dedicate 5-7 hours per week for the duration of the course
You'll discover the underlying structure of all successful stories, learn the essential elements every HETV drama needs, and practise applying this understanding to your work in script development.
Throughout the course you'll study real-world scripts that work — and some that don't — to help you understand how thinking in story terms can help you identify and tackle problems, and make your note-giving more effective at all stages of the development process.
Along the way, you'll be working within a supportive community keen to share their experiences.
We teach this course in our online classroom, which is open 24/7 so you can fit learning around your work, family and friends. You'll work in a small group of learners so you can discuss ideas, ask questions and share your writing as you progress through the weekly sessions.
You'll learn from:
Short podcasts from John Yorke
Short videos from John Yorke and Caroline Young and other industry experts
Written guidance notes and carefully selected reading and viewing lists
Practical exercises and prompts to help you experiment and practise your script skills
Guided discussions with your group
Weekly tutor input and feedback on your final assignment in each session
Live chat with your tutor and a script executive, and a Q&A forum with John Yorke
The opportunity to share your work and give and receive feedback from fellow writers
Detailed feedback on your final script notes at the end of the course from your tutor and John Yorke
You'll need:
5-7 hours per week to work through the course
A notebook and pen or pencil, if you like to make notes by hand
Access to the following films on DVD or via streaming sites:
A laptop or computer* with:

A reliable broadband internet connection
Speakers or headphones
The latest version of Google Chrome, Firefox, Internet Explorer, Edge, or Safari
Microsoft Word. If you don't have this you can download Open Office free
Adobe Reader, latest version. Download free
QuickTime Player, latest version. Download free
Adobe Flash Player 10 or higher
*You can access the course from a tablet or smartphone, but we recommend using a laptop or computer, as this makes it easier to share your work files with your writing group.
Join our alumni
After your course, you can join our online alumni where you'll meet our growing network of past students. The alumni is a friendly group of writers who support each other as they continue to explore and develop their writing.
Within our online alumni area you can:
Rejoin your classmates on a private forum and access an archived version of your course materials and forum posts
Meet alumni from other courses and groups and share your work for feedback on our alumni critiquing forum
Join in on discussions about reading, writing, editing and ideas on our general discussion forum. This is also where we share news and useful info
Retain access to our resources area, which has interesting and informative links
Chat with other people online using the alumni area live chatroom. We also host live chats with guests here
Mentoring and one-to-one feedback
The John Yorke Story tutor team offer mentoring, script reads and reports. We are happy to quote by job or script, or to arrange a longer mentoring scheme as you work on a specific story idea. We'll create a package to suit you, so for more information please email susannah@profwritingacademy.com
Taking things further
If you'd like to continue on to another John Yorke Story or Professional Writing Academy course, we'll give you a discount. Please get in touch for more details.
Price: £900 (inc. VAT where applicable)
Price: £50
(Non-refundable)
WHAT STUDENTS SAY ABOUT
the

COURSES
I really have enjoyed the course. The content has been fantastic and the feedback incredibly helpful… I've managed to secure a couple of weeks on a production, shadowing with the Script Team in children's drama, so that I can put some of what I've learned into practice.
It has been so fascinating to see just how much changes between a first draft of a script and the final TX.
I'm honored to have learned from such an experienced team. I definitely learned a lot and feel a sense of satisfaction after receiving the notes on my final assignment. I'm out there now applying for more reading jobs.