Caroline Marchal's struggle to recruit women isn't surprising considering the games industry has the 'lowest proportion of female professionals of any creative sector industry', with just 14% of UK games professionals being female.
So why does female talent struggle to prosper in games development? Are aspiring writers, designers and developers too intimidated to join the industry's boy's club culture? Do games studios not value the insight that female perspectives could bring to their writer's room?
We have four potential reasons:
1 – More men play games / Women don't play the genre of game we're making
There have been some big developments since Gary Gygax of Dungeons & Dragons proclaimed that 'gaming is a male thing' in 1998. Today, more women than ever are playing video games, making up 43% of the UK gaming demographic.
This statistic is likely to be larger as women are less willing to call themselves 'gamers'. 70% of those considering themselves 'core gamers' are male, but almost as many female gamers play more than five days a week – beating men on the mobile platform.
It's not just Candy Crush, Farmville and the Wii – women enjoy a variety of games. Both genders rate strategy in their top three genres, as well as franchises like World of Warcraft.
Men prefer shooters and sports games, but the marketing for these genres has created a chicken/egg situation – see Polygon's article on the history (and power) of gendered marketing: 'If the makers of Call of Duty…said they wanted to pursue the female market, it could be done.' Case in point, Battlefield 5's recent inclusion of female avatars.
When a market becomes saturated like gaming has, industries look beyond their existing target demographic. However, the potential for capitalising on female gamers can't be reached with so few female writers, designers and developers representing almost half the gaming population.
It's in everyone's best interests to encourage gender parity in the dev team, so female talent can steer story and production decisions towards a more balanced portrayal of women in games.


– Emily Ronan
2 – A good male writer can create successful female characters
This was the argument of game designer Jean-Max Moris – somewhat understandable, as his male writing team had created the popular female protagonist Max in Life is Strange.
But in his article on the subject, video game critic Colin Campbell 'felt certain that [Max] had been written by a man'. He summarised: 'more and more games feature women characters. More game writers are men. The skill required to convincingly write across genders is pretty high, and not commonly found.'
This has already been proven in the film industry: movies with an all-male writing team are 50% more likely to fail the Bechdel test, a method for evaluating the portrayal of women in narratives.
Why take the risk of alienating 43% of gamers?

It's in everyone's best interests to encourage gender parity in the dev team, so female talent can steer story and production decisions towards a more balanced portrayal of women in games.
Tomb Raider's first female lead writer wanted to create a Lara Croft 'for everyone' in 2014. Rhianna Pratchett's script explored Lara's vulnerability for the first time and it became the bestselling game in the franchise, with 11m copies sold.
The Guardian's Lucy Prebble wrote that 'this is just one example of how broadening the scope of who builds and features in mainstream games makes them better, not just different.'
______
Reasons 3 & 4 can be accessed for free in our much-coveted industry guide, Three Strategies to Make Your Game a Winner.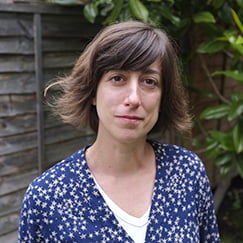 Caroline Marchal has been working in the video game industry for over 15 years and is still passionate about making games and amazed by the incredible experiences this medium can provide.

While working for Quantic Dream, Caroline lead the game design team on Heavy Rain and Beyond – Two Souls, and in doing so, has acquired a deep understanding on how story and gameplay should work together to create meaningful and compelling experiences. Now she is the Creative Director and CEO of the exciting new London studio, Interior Night.

In 2018, Caroline and John presented a session How to Create Great Characters: Depth, Emotion and Player Agency at the Game Developers Conference in San Francisco.